Do I Really Need Someone to Manage My AirBNB?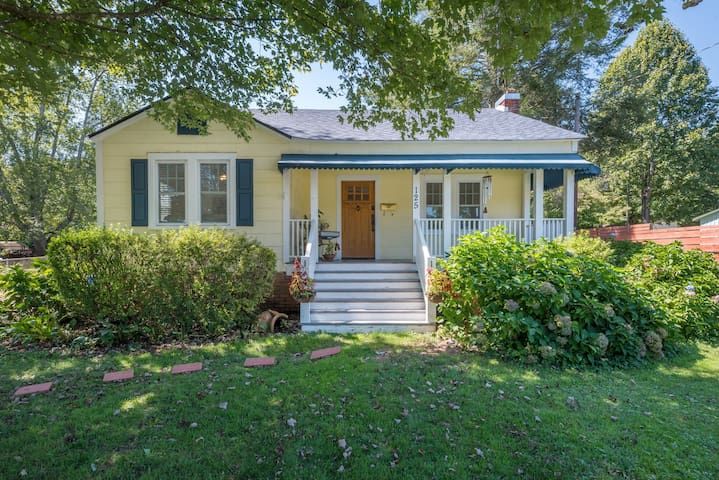 Sure, it sounds nice to leave the house-cleaning, guest-pleasing, and schedule-keeping duties to someone else. But do you really need to hire someone to manage your Airbnb? And in all honesty, is the cost of Airbnb property management really worth it?
In our time working with homeowners in western North Carolina, we've heard these questions countless times. Here's the truth: we're in business for a reason. Many rental property owners have found that hiring us to manage their Airbnb has not only given them peace of mind, but made them more money. Here's why we recommend you consider hiring a manager for yours.
You'll take pride in the experience you provide.
We'd wager a bet that you take major pride in the home you're renting others. But you're also a human, one who may occasionally—gasp—leave a corner undusted or a toilet paper supply one roll short.
When you're working a full-time job or caring for a family, it can be a struggle to squeeze a turnover in, even with help from housekeeping. But today's guests are more discerning than ever before. They'll notice if you haven't provided perfectly fluffed pillows or a helpful welcome guide—and they won't have a clue about the crying baby or urgent work deadline that prevented you from achieving hosting perfection.
When you hire us to manage your Airbnb, caring for your property and guests is our one and only priority. We see to every detail, and then go above and beyond to provide a five-star, five-senses hospitality experience. Not only does this help you regain a sense of pride of ownership, it also leads to rave reviews, which in turn increases occupancy and offers opportunities to increase your nightly rate.
You get your time and peace of mind back.
We're not exaggerating when we say that one benefit of hiring a property management company is getting your life back. Never again will you have to rush over to fix a leaky dishwasher, answer a 2 a.m. lockout call, or spend an hour on the phone with the cable company to get your guests back on WiFi.
And it's not just the small stuff you'll no longer have to sweat. Learning to properly manage a vacation rental takes years and years of trial and error. Finding an experienced partner to manage your airbnb can help you fast forward to success by offering guidance on everything from how to avoid guest dilemmas to what upgrades to invest in to up your occupancy or rates.
You get to be a host instead of an employee.
Many vacation rental owners begin renting their homes out of the joy of sharing the space and place they love with like-minded travelers. But that initial excitement soon diminishes when reality sinks in.
Managing your own property means being part coordinator, part concierge, part groundskeeper…the list goes on. It's enough for a full-time job and then some. One of the benefits of hiring a property management company is returning to the joy of hosting. You can be as involved in the process of sharing your home as you'd like—but you're also free to step back and leave the grunt work of managing your Airbnb to someone else.
You'll stop leaving money on the table.
Here's a quick story about a family we know in Brevard, NC—we promise it's worth your while. They'd spent a year renting their two-bedroom, one-bath cottage on their own until it became too much to handle.. That's where we came in.
By utilizing pricing software that informs us of nightly rates of local competitors, we were instantly able to see their rates were too low. We also noticed opportunities for strategic upgrades and so we helped them choose more modern furnishings and stage their home for better flow.
Finally, we incorporated our five-star, five-senses hospitality philosophy. Within three weeks, we were getting bookings at three times the price our clients were seeing before we stepped in to help.
The moral of the story? The cost of Airbnb property management can sometimes pay for itself.
You no longer need to be a marketing whiz.
Gone are the days where you can set an Airbnb listing and forget it. Now properties are being discovered through a myriad of booking sites and SEO-optimized web pages, Instagram stories and Facebook posts. It's a lot to keep up with, and it takes a special skillset to implement marketing successfully.
Lucky for you, we have a team that handles that. You can go back to using social media for the things that bring you joy—like baby pictures and dog videos.
Let us manage your Airbnb for you.
Ready to experience the benefits of hiring a property management company firsthand? Contact us today to learn more about our premier services for homes in western North Carolina.